818 IS COMMITTED TO OPERATING A SUSTAINABLE SUPPLY CHAIN TO REDUCE OUR IMPACT ON THE ENVIRONMENT.
From the agaves we grow, to the production of our bottle, 818 emphasizes the Earth's importance in all we do. Our distillery runs on biomass and solar power, which means we reduce our reliance on fossil fuels and our carbon footprint. Our 1% for the Planet partner in Jalisco, S.A.C.R.E.D., works with us to transform agave byproducts into adobe bricks that are used in the surrounding communities. We feel a great sense of responsibility and pride to have an impact on communities and the environment.
Certified B Corporation™
We are proud to announce that we have become a certified B Corporation™ (B Corp™). This certification is administered by B Lab, the nonprofit network transforming the global economy to benefit all people, communities, and the planet. We are honored to be part of such an extraordinary community.
To become a Certified B Corporation™, companies undergo a rigorous review of the impact of their operations and business model in the areas of Governance, Workers, Community, Environment, Consumers and Disclosure.
818 has been verified that it has met B Lab's high standards for social and environmental impact, that it has made a legal commitment to stakeholder governance, and that it is demonstrating accountability and transparency.

MADE IN HARMONY WITH THE EARTH
REGENERATION FOR THE NEXT GENERATION
We value the whole agave life cycle, which is why we are so passionate about our sustainability project that aims to create bricks from our leftover agave fibers and liquids. In combining these materials with adobe soil, we are able to create our 818 bricks and share them with surrounding infrastructure projects. The bricks produced through this process embody our commitment to both the environment and local communities in Jalisco. Our current projects include building and stocking a public library and middle school classroom space in Zapotitlán de Vadillo, Mexico, as well as rebuilding and strengthening an artisanal, locally owned vino-de-mezcal distillery in Jalisco's Tuxpan region.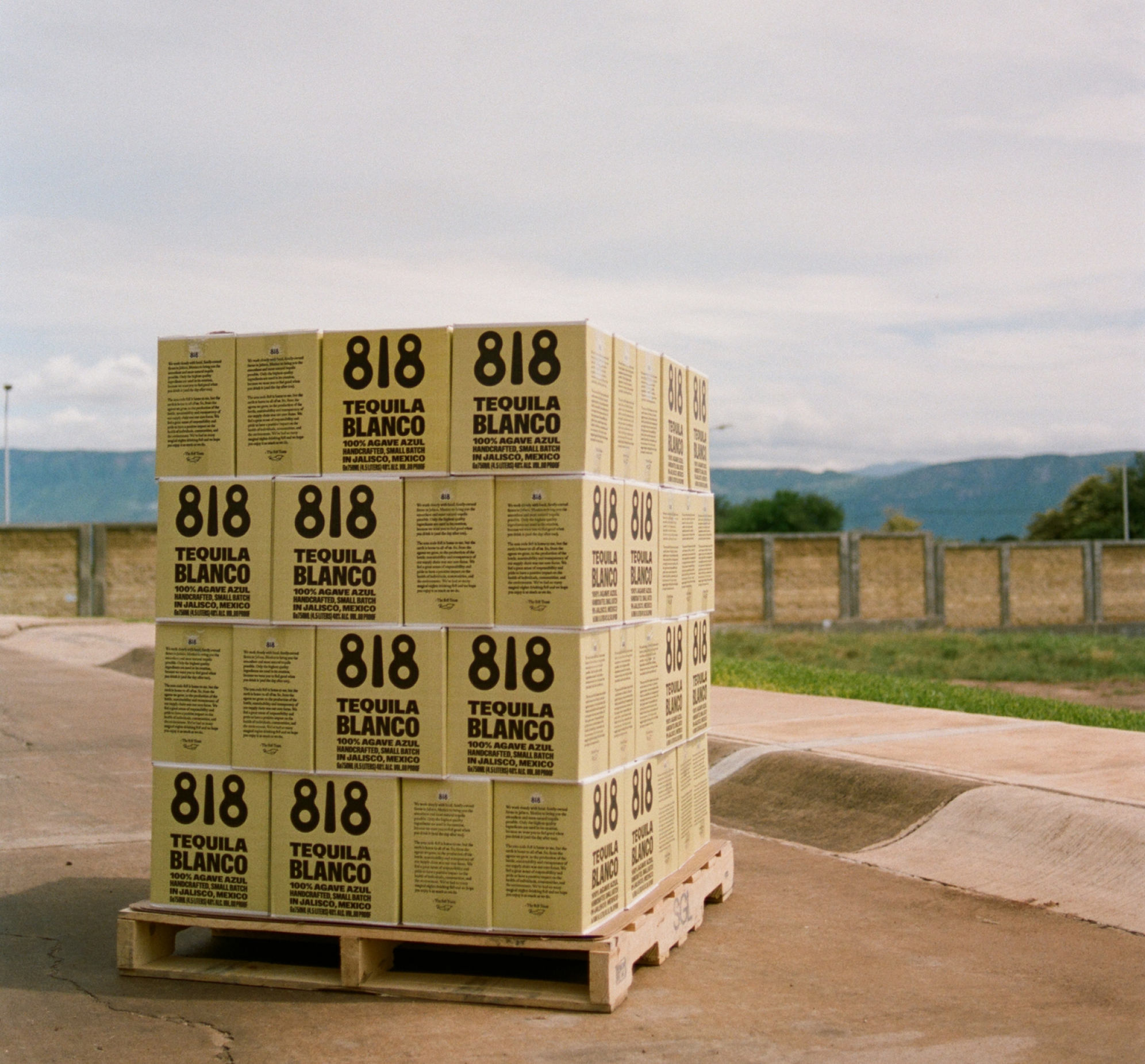 PACKAGED WITH CARE
We choose our packaging partners based on a continued dedication to protecting our planet. Our glass supplier champions the industry-wide transition to natural gas energy sources, and our labels, corks and boxes are all certified by the Forest Stewardship Council for coming from sustainably managed forests. We are proud to partner with suppliers that share our commitment to sustainability and a greener future.
working with only the best
People are at the core of our business. Those who share the magic of 818 with their friends; those who sell our product nationally; and those who work to craft this award-winning tequila for everyone to enjoy. We greatly appreciate and support the work of the local family-owned businesses in Jalisco, and are honored to have them as a part of the 818 family.
GIVING BACK TO OUR COMMUNITIES
818 commits to putting people and the planet over profit. With every bottle of 818 sold, we will donate 1% of revenue to environmental nonprofit partners to ensure our planet and future generations thrive. As a 1% for the Planet member, 818 proudly joins a growing global network of businesses, individuals and nonprofit organizations working to address the most pressing issues of our time. We hope that other businesses can agree to join the pledge and consider all stakeholders when making decisions.
FOR THE PLANET AND ALL ITS PEOPLE
818 Tequila and Kendall Jenner are proud supporters of LGBTQ+ rights, and are excited to announce a donation to The Venture Out Project. The Venture Out Project shares 818's commitment to sustainability initiatives and belief in the importance of the earth and we are excited to support their mission to bring the magic of the outdoors to communities of people who identify as trans, gay, queer, and more. 818 is also proud to partake in The Venture Out Project's trans inclusion workshop, Beyond Bathrooms.